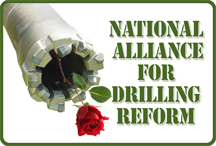 Gathering Line - a special pipeline that transports gas from the field to the main pipeline.
The Gathering Line is a round-up of oil & gas drilling news brought to you by National Alliance for Drilling Reform (NA4DR), a broad alliance of grassroots activists from states across the nation that are affected with drilling development.
This week's Gathering Line is too scary for Halloween
Peacegirl writes about gas drilling in Bradford County, PA. Welcome To Bradford County, PA, calls attention to an article in the Fall 2009 issue of Save the Bay, the magazine of the Chesapeake Bay Foundation which features the North Branch Susquehanna River in Bradford County. From the blog Gas Wells Are Not Our Friends where your comments are always welcome.
Aruba Petroleum is drilling a Barnett Shale gas well in the backyard of Tim and Christine. Their property was taken, it's value diminished, they were threatened and now Aruba Petroleum spilled toxic drilling waste a few feet from where their daughter plays. Another tale (with VIDEO) about the Victims of the Shale on Bluedaze: DRILLING REFORM FOR TEXAS.
Allegheny State Forests Littered!! Park Management Tries To Bring Drilling To A Halt And Are Met With IntimidationRead it at Cheap
Today's environmental horrors could lead to a scary Sci-Fi future. Drilling Santa Fe offers an excerpt from Apocalypse Soon by Laura Paskus.
Meanwhile, Splashdown says, Kiss myGas!
Williams Petroleum wants to pipe drilling waste water under our homes in Flower Mound, TX to a huge tank farm. Flower Mound Citizens Against Urban Drilling we discovered an alternative that is safer and greener. Williams claims to be a "good neighbor." Here's their chance to prove it.